Newsletter
You already know where to stay in Myrtle Beach for unmatched access to the ocean, attractions and South Carolina's best golf.

But what about upcoming events and other insider tips for enjoying your vacation?

Be sure to read the Avista Advisor monthly newsletter, where you'll find the latest updates about our seasonal specials and holiday events, learn about recent hotel upgrades and meet members of our staff.

    Spring 2013                         Vol. 4 Issue 2
Greetings from Avista Resort!
Spring is finally here in North Myrtle Beach! We are busy gearing up for Summer 2013 and all of the fun that it will bring. We are busy with improvements to make the stays of each of our guests the best that they can be. Make your vacation plans today - call or book online! Our vacation planners are ready to help you plan your memorable beach vacation.
News from Avista
St. Patrick's Day Parade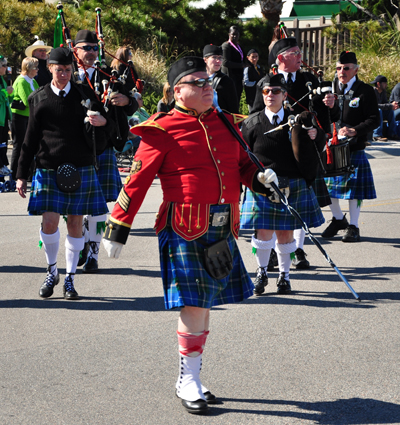 "Going green" is a common phrase along the beach, but in March it takes on a whole new meaning. North Myrtle Beach is home to the largest St. Patrick's Day parade along the Grand Strand. More than 100 floats make their way through the parade route. As part of the celebration, Main Street is lined with vendors, bagpipers, local crafts, live entertainment and games for the kids. It is not hard to be lucky when you attend this event. There is no shortage of family fun, great food, and awesome times - You may even spot a leprechaun or two! What makes it so convenient for guests of the Avista is that the parade route is only two blocks from the resort. You won't have to go far to surround yourself with the luck of the Irish!
Easter Activities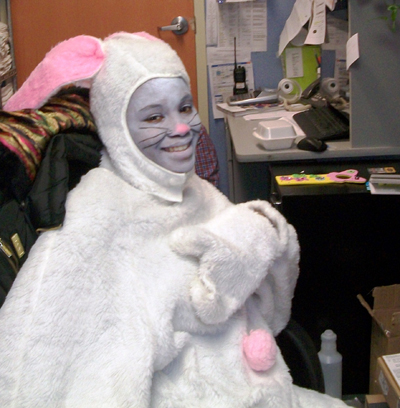 Avista is always happy to host big name celebrities, especially at Easter. Once again, we were happy to be the exclusive host hotel of the Easter Bunny. The Easter Bunny, or E.B., as we call him at the Avista, loves making the holiday larger-than-life while he is visiting the Grand Strand.
Kids of all ages took part in our annual Easter Coloring Contest. New this year, and in our continuing effort to raise money for the American Heart Association, two Duck Races were held in the indoor lazy river. More than 125 ducks took part in the first heat. Winners of both races received a golden duck filled with candy and a $25 gift card. We don't know who enjoyed the duck races more, the children or their parents. One thing is certain, everyone had a great time watching the races. A special thank you goes out to our two guest volunteers who maintained the starting line during the event.
Another part of the Saturday holiday line-up included an Easter Party held on the 3rd floor mezzanine. Children and their families enjoyed pizza, chips, sodas and a variety of candy. There were crayons and coloring books, as well as fun cartoons to watch. However, Easter Sunday was the big day for everyone at the resort. The Easter Bunny ended his tanning session on the beach and went to work delivering zoo-themed Easter buckets to guest rooms. E.B. was treated to huge smiles all morning long. By Sunday mid-morning, the Easter Bunny was on the oceanfront lawn awarding prizes to all of the Coloring Contest winners and the jellybean counting contest. The most energetic of our Easter events is the egg hunt on the front lawn. Kiddies were set loose to find 800 eggs filled with toys and candy. Needless to say they made quick work of the task and baskets were filled to the rim from one side of the lawn to the other. The Easter Bunny remarked before checking out that she looked forward to returning to the Avista next year.
American Heart Association Fund Raisers:
At the Avista, we believe very strongly in community and charity. Over the past few years, we have teamed up with our sister properties, all part of Myrtle Beach Seaside Resorts, to raise funds for local charities. Most recently, the American Heart Association has been the benefactor of our efforts. Just this week we held one of our largest fundraising events, a spaghetti dinner. Our local food distributor, IFH, was kind enough to donate the food for the event, and staff from several of our sister properties banded together to sell tickets, cook food, wait tables and more. A bake sale and silent auction were also part of the dinner fundraiser. As a company, we have organized raffles, lazy river duck races, candy sales, bake sales and have other events on the horizon. Our thanks go out to each of you who have helped us along the road to reaching our goals.
Vacation Giveaway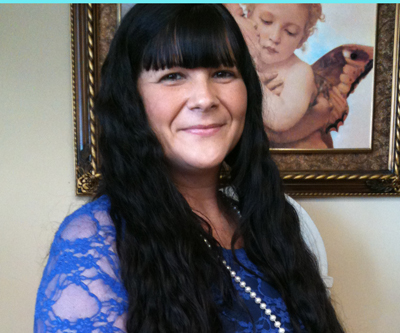 Congratulations to Dede Watts! She is the winner of our 2012 Vacation Giveaway! She won a two-night vacation getaway to Avista Resort!
Click here
to sign up for our email list and maybe you will be the winner of our 2013 Vacation Giveaway!
Sea Turtle Season is Almost Here!
Loggerhead turtles are an endangered species of sea turtle (and our state reptile) found in our area. Loggerhead turtle nesting season begins in May and lasts through October.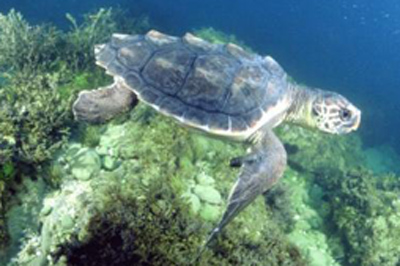 Persistent population declines due to pollution, shrimp trawling and development in their nesting areas - among other factors - have kept this beautiful creature on the endangered species list since 1978.
These sea turtles can grow to be three feet long and almost as wide! They often grow to weigh between 250 and 350 pounds. They are primarily carnivores - munching on jellyfish, conchs, crabs and fish. Sometimes they even eat seaweed.
Female sea turtles will crawl out of the ocean to lay her eggs. She will spend between 30 and 45 minutes digging. She will then lay around 100 ping-ping ball-sized eggs. Once her eggs have been laid, she will return to the ocean and will never see the eggs or her hatchlings ever again. It will take between 45 and 65 days for the eggs to hatch depending on the temperature of the sand. It is estimated that only 1 out of 1,000 of these turtles makes it to adulthood. Nests can often be lost to predators such as raccoons, dogs, ghost crabs, sea birds, ants, as well as shoreline erosion and human predation.
There are some things that you can do to help when you visit the beach:
Do not disturb them. If you see an adult coming on shore - keep your distance. She may return to the sea without laying her eggs. After too many failed attempts she may just release her eggs into the ocean.


Be sure to fill in holes that you dig on the beach. These tiny turtle hatchlings can fall in the holes and become trapped!


Turn off flashlights and keep other artificial light sources low after the sun goes down. These artificial light sources may confuse the females and may cause them to head in the wrong direction because they use the moon for guidance. Artificial lights could also cause the hatchlings to go in the wrong direction.


Do not touch the hatchlings. They must be allowed to crawl to the ocean on their own.


Pick up your trash. Be sure to take your tents, chairs, coolers and trash with you when you leave the beach. Turtles may become tangled in these items as they leave the beach. Plastic bags can actually be deadly for these turtles. They may mistake a plastic bag for a meal of jellyfish.


Leave established nests alone. Don't make their odds even tougher. These turtles are protected and it is a federal crime to bother sea turtles, their hatchlings, or their nests.


If you see a sick or injured turtle on the beach or if you find a nest, please contact the North Myrtle Beach Sea Turtle Patrol at (843) 283-6670 or the South Carolina Department of Natural Resources at 1-800-922-5431.
North Myrtle Beach Regulations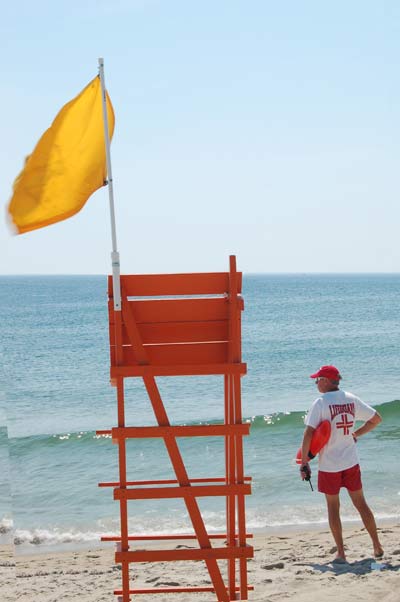 As folks make their way back to the beach this summer, please keep these regulations in mind. They are the laws of North Myrtle Beach and help make the beach safer and more fun for everyone.
No Littering. If you litter, you may be fined up to $1,000.
No Alcohol or glass containers are allowed on the beach.
Do not damage sea oats, sea grass or sand fencing.
Discharging or even possessing fireworks is illegal within the city limits of North Myrtle Beach. This includes fireworks on the beach.
Open containers of beer, wine or liquor are prohibited in vehicles, or any public place including streets, sidewalks, and beach areas.
Swimming is not permitted beyond fifty yards from the beach or over shoulder depth unless otherwise stated by the lifeguard.
Jumping or diving from piers is prohibited and swimming within fifty yards of a pier is prohibited.
Only canvas fabric rafts may be used in the ocean. These rafts must be equipped with safety ropes.
Surfing is only allowed in designated areas.
Employee Spotlight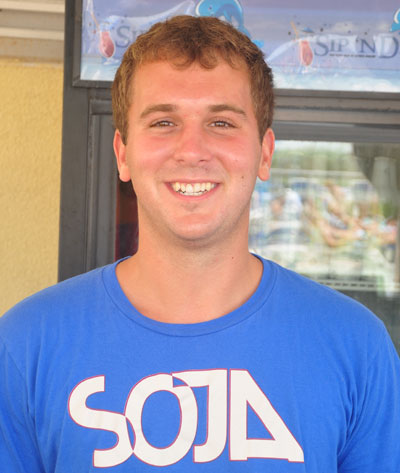 Joe Kiefl | Sip and Dip Pool Bartender
Our food and beverage team is delighted to herald the return of Joe Kiefl to their ranks. Joe is well known to our regulars at the Sip and Dip Bar, having received many accolades from our guests during the 2011 & 2012 summer seasons. He is admired for his ability to remember your favorite cocktails and snacks. Sadly, Joe returned to his home state of New York after the close of the 2012 summer season to spend time with his family. Our patrons and staff were disappointed to see him depart. Luckily for Avista, that was not the end of his story.
Joe returned to the Avista in March of this year and was given a warm welcome by our Food and Beverage Director. In a recent staff meeting, our various department heads all remarked what a fortunate occurrence it was to have him back at the helm of our outside pool bar. Joe went to work quickly preparing the pool bar for an Easter re-opening. The Sip and Dip pool side Bar currently opens at 11:00 am, seven days a week, weather permitting. We encourage each of our visitors to stop by for a yummy smoothie or a cold, tasty adult beverage. Joe Kiefl and our poolside bar staff are happy to assist with your cocktail needs.
"Joe is Mr. Customer Service. I do not recall a time that I have ever seen him without a smile. It is very obvious that he enjoys his work from the consistent service he provides to our patrons. He is both admired by his peers and appreciated by guests. We are thoroughly pleased to have his bubbly and infectious personality as part of our family once again." - Mitchell Martin
Groups
"The Avista turned out to be the perfect space for our retreat. Courtney, in Group Sales, was so extremely helpful in helping us with all of our requests. We will be returning to the Avista for next year's retreat."
James Montrose, Durham, NC
Are you looking for the perfect place for your business retreat? Look no further - plan your retreat with us and we'll help it go off without a hitch! Our group sales department can assist you with planning any event - whether it's for work, a wedding or any special occasion.
If you'd like more info on booking your group function,
Click Here
.
Guest Comments
"I love staying at the Avista. It is always so clean, clean and CLEAN!!! The rooms are lovely. It's close enough to Main Street to walk to everything. And I love the staff at the Avista. They go above and beyond to always make me feel like I belong there... just like family. Thank you!!"
Vicki Yount, Lincolnton, NC
"My wife and I really appreciate the hospitality and cleanlinness of the Avista. It is such a nice, quiet getaway location. It is apparent the resort staff enjoy working at the Avista."
Terry Thomas, Summerville, SC
"The Avista is a favorite holiday destination for us for the past 5 years! We love the room layout, the balcony views, the proximity to the beach, friendly staff and general comfort of the property!"
Susan Gavarkovs, Toronto, ON
"I always enjoy our stay at the Avista. This was our first year staying with a newborn and everything we needed was readily available. I would recommend it to anyone."
Jessica Williams, Laurinburg, NC
To read more guest comments, click
here
.
Fun in the Sun
Fun Facts - Did you know?
The gray whale migrates more than 10,000 miles each year, the longest migration of any mammal.
Eighty percent of all pollution in seas and oceans comes from land-based activities.
The top ten feet of the ocean holds as much heat as our entire atmosphere.
The longest continuous mountain chain known in the universe resides in the ocean and it is more than 40,000 miles long.
Monthly Recipe - S'more Cookie Bars
1/2 cup (1 stick) butter or margarine, softened
3/4 cup sugar
1 egg
1 teaspoon vanilla extract
1-1/3 cups all-purpose flour
3/4 cup graham cracker crumbs
1 teaspoon baking powder
1/4 teaspoon salt
4 (1.55 oz. each) Milk Chocolate Bars
1 cup marshmallow creme
Heat oven to 350°F. Grease 8-inch square baking pan.
Beat butter and sugar in large bowl until light and fluffy. Add egg and vanilla; beat well. Stir together flour, graham cracker crumbs, baking powder and salt; add to butter mixture, beating until blended. Press half of dough into prepared pan.
Arrange chocolate bars over dough, breaking as needed to fit. Spread with marshmallow creme. Scatter bits of remaining dough over marshmallow; carefully press to form a layer.
Bake 30 to 35 minutes or until lightly browned. Cool completely in pan on wire rack. Cut into bars. 16 bars.