Newsletter

    Winter 2014                       Vol. 5 Issue 1
Greetings from Avista Resort!
Avista Resort would like to wish all of you a very Happy New Year as we move into 2014, it's hard to imagine but the first month has just flown by.
We hope all of you had a wonderful holiday season. We had a blast as always here at the beach. This is the time of year when we welcome back our wonderful "snowbirds " who have the right idea - they like to get together each winter and escape down South, you should try it some time!!!
News Around Avista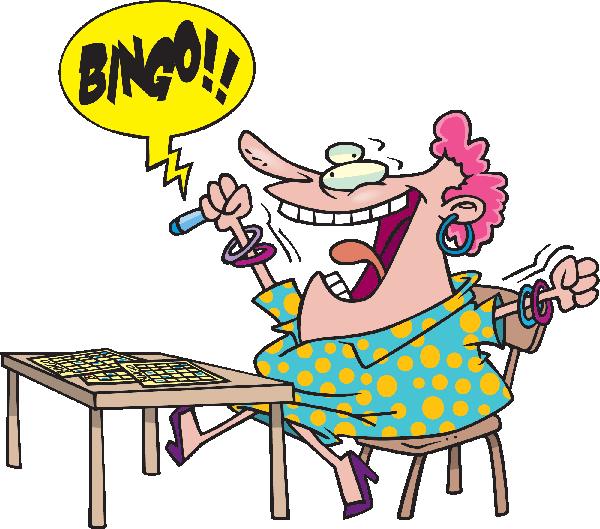 Fun Times at Avista Resort
The Avista Front Office and Food and Beverage staffs have been hard at work coming up with new ideas and events for our guests with the help of our fantastic snowbirds. As in past years, we have held movie nights, Wii games as well as a bingo night. These have really been a great hit this year, as they have been every year. Please do not hesitate to give us your ideas - go to the
Avista Facebook page
or email
zach.frazier@avistaresort.com
.
Staff Appreciation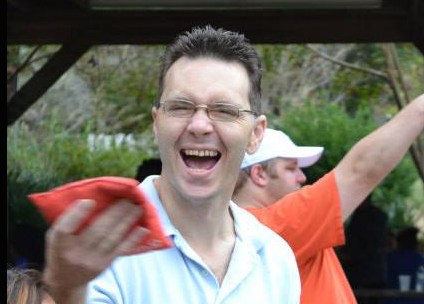 At the end of the busy season we throw a big picnic for all of the staff here at Avista. This has now become our annual tradition and our staff looks forward to the fun and games where teams consist of Managers and staff members alike.
It's something that can take a lot of effort to put together but is truly worth it. This year we had a great time with good food prepared by all of our managers here at the Avista as well as our Food and Beverage Team. BBQ, burgers & drinks were provided and each manager brought their favorite side or an item to the party as well. The staff got together and played corn hole, bocce ball, and everyone's favorite - badminton. It was a fantastic time and a good chance for people to spend time with those they don't normally get an opportunity to bond with - even though they spend so many hours working at the same place.
Halloween Fun!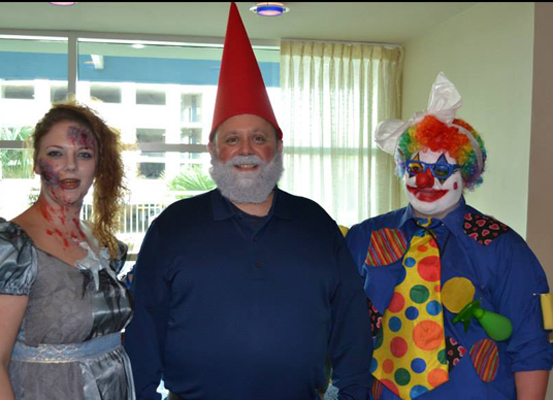 Every year at the Avista we embrace the Halloween theme and antics and have our staff participate in a pumpkin carving/decorating contest as well as a costume contest. This year we had a great deal of participation and some wildly entertaining get-ups. The hotel provides all of the pumpkins and the tools needed to decorate and carve the pumpkins, but the staff prepares their own costumes. As you can see it was a fantastic time. Most of the staff members came dressed up, faces painted to the extent that some of the them were totally unrecognizable.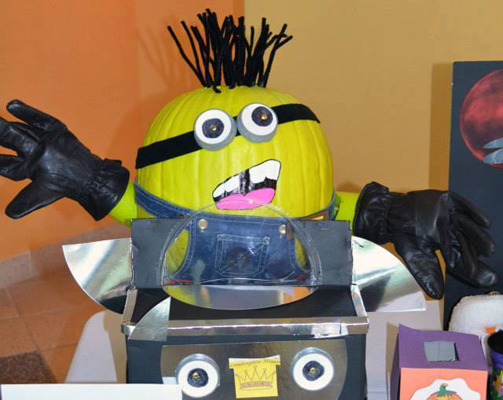 For the pumpkin carving contest, each department is asked to be creative and carve something unique and original. Our guests are asked to vote online and a winner is picked. Needless to say, there is a lot of friendly rivalry between the various departments. We had everything from a witch to Count Dracula, and even a Minion from Despicable Me! This year, the front desk, with their Minion, was declared the winner.
Holidays at The Avista
Each holiday season, the Avista is a warm and welcoming place to be. The Avista hosts a Thanksgiving and New Year's Eve dinner with amazing and tasty food. This year's Thanksgiving menu consisted of Sliced Turkey with Gravy, baked Miso-Marinated Mahi Mahi topped with Ginger Confit, along with a carving station with Honey Glazed Ham and Herb Encrusted Prime Rib. There were of course many different sides to be had from greens and rice to potatoes and veggies.
During the New Year's festivities we had our annual NYE dinner and gala, held in the ballrooms. The dinner consisted of an array of various appetizers, entrees, and desserts. The dinner was full of many different choices and a ton of food to ensure that nobody was hungry when they were enjoying the evening on the dance floor. There was live music by Atlantic Groove and a midnight champagne toast.
New Threads!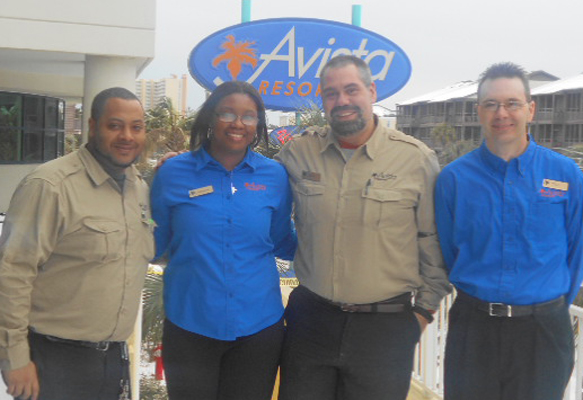 When winter comes, the front desk staff goes from a summer shirt to a professional look, typically consisting of black slacks and a white long sleeve shirt. This year, after some discussion everyone agreed that we wanted something with color that shows the Avista spirit. The staff still wears black slacks but rather than a white standard shirt they have gone to an Avista blue button-up with orange lettering.
Our Engineering team has also recently made the transition from the typical blue work shirts to black work pants with a tan-colored work shirt, and each staff member also has their own personal work coats to stay warm in the winter. We think both departments' new looks are great! If you get a chance - let us know what you think!
Valentine's Day 2014
Husbands, boyfriends and significant others - it's almost that time again! If you haven't already made your plans for Valentine's Day, we invite you to spend a night or weekend with us and enjoy a great meal in our restaurant, Just Off Main. Please check out our
Valentine's menu
and let one of our vacation planners help you plan the perfect Valentines getaway.
Preventative Maintenance/General Clean
As the season comes to an end, our housekeeping and engineering staff get to work on improving all of our units. We have a PM/GC season where we fix any issues and deep clean the entire unit. The preventative maintenance starts on Sundays and typically goes until Tuesday or Wednesday. The staff uses checklists (Inspection Form, Guest Comments) to ensure that all general and specific areas are addressed. The unit is stripped of linens, appliances are pulled out from the walls, beds are taken apart right down to the frames, and furniture is moved to the center of each room. Any imperfections in the walls are patched. Painting begins with an acrylic flat paint used for the walls and ends with an oil-based paint used for trim and doors. Corner guards are installed. Bathroom and kitchen drains are cleared, and old caulking is removed and new caulking is re-applied. Faucets and drain sets are replaced if defective or pitted and worn. Non-functional or rusted items such as hairdryers, irons, towel shelves and bathroom cabinets are replaced. Old shower heads are replaced with AAA-approved models. Closet shelves, door knobs and hinges, cabinet knobs, and any moving parts are inspected and tightened or repaired. Some doors in the units are presenting rusted hinges and, in these cases, the doors are removed and the hinges replaced. Carpet seam and baseboard issues are corrected. Once the Maintenance staff has completed their work, Quality Control Inspectors scrutinize the unit and note any areas that might benefit from further attention.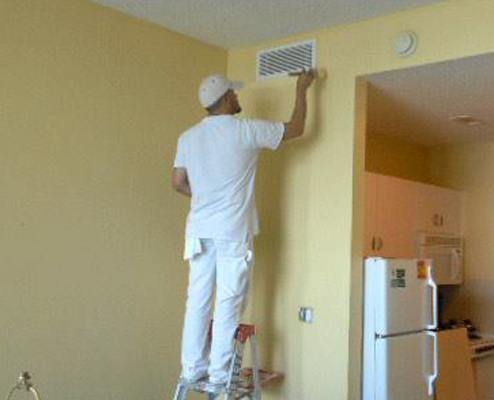 Once the unit has passed the Quality Control inspection, the Housekeeping staff goes to work on the General Cleaning service. Everything is emptied from the kitchen cabinets and cabinet interiors are thoroughly cleaned. Headboards, bed frames, dressers, dresser drawers and baseboards are made to look clean and pristine. Appliances are scrubbed inside and outside. No corner is left without attention. Metal sliding door tracks and thresholds are made to shine. Light fixtures and lamps are polished. Per AAA guidelines, MP3-compatible clock radios are installed. Upholstery is spot cleaned unless professional cleaning is in order and carpets are shampooed, taking care to address any spots or stains. A second Quality Control inspection ensures nothing is out of place, every issue has been addressed, and the unit is in tip-top condition.
A New Addition to Our Food and Beverage Team
We are happy to announce the addition of Kirk Foltz to our Food and Beverage team. Kirk comes to the area from North Carolina where he relocated to from Columbus, Ohio. Kirk has been in the Myrtle Beach area for about 7 months now and really enjoys the area. Kirk is a graduate of Columbus State Community College, where he graduated with a culinary degree that is American Culinary Federation accredited.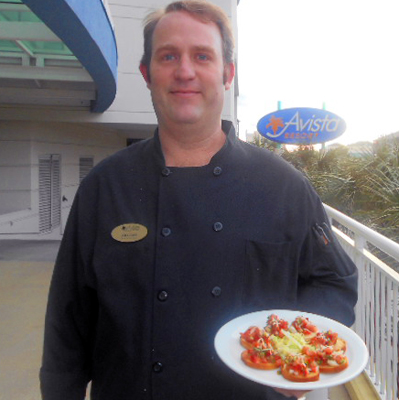 Kirk has been cooking professionally for about 20 years, but fell in love with the kitchen when he was 6 - helping his grandma cook and bake. He specializes in French/Italian/Mediterranean foods. When asked for a few of his favorite meals, he chooses pasta with
a Rosemarie cream and tomato-based sauce, served with shrimp
or chicken. Kirk also makes sure to mention two of his other favorites, sesame-encrusted tuna with fresh pineapple salsa and
a cinnamon-encrusted pork chop with a peach-jalapeno glaze.
A few things to know about Kirk - he enjoys spending time with his family, reading and music. He truly enjoys cooking because of the creative nature of the work. Kirk stated "where else can you find a job that allows you to let your imagination flow?". Kirk really enjoys working in a resort, due to the many people he has the opportunity to serve and the varieties of food he gets to cook.
Kirk has quite the following around the resort with his homemade chips and extremely tasty bruschetta. These items are both available during lunch and dinner and will be available this summer at the pool.
News Around Myrtle Beach
Expanded Air Service to Myrtle Beach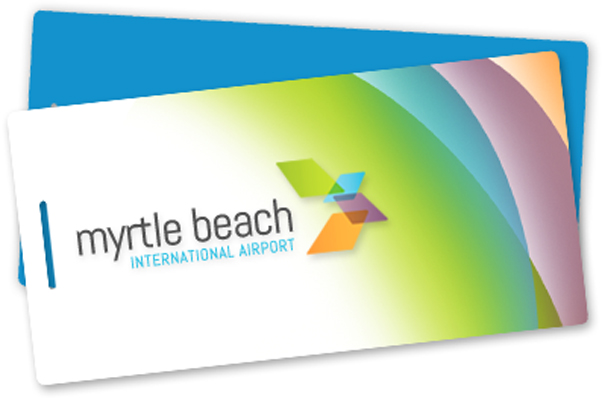 Both Spirit Airlines and West Jet have added additional flights this spring and will start their service earlier in the year. For a full list of Spirit schedules please
click here
.
Also West Jet Airlines will be making an early return to Myrtle Beach starting on March 6, 2014 nearly two months earlier than 2013. For a full list of the West Jet schedules please
click here
.
Temporary Road Closures
The intersection of Main Street and Ocean Boulevard will close Monday, February 3rd, 2014 for work associated with the Main Street Outfall project. This intersection will remained closed for the month of February.
Travelers seeking to enter Main Street from Ocean Boulevard will not be able to do so. Detours will be at 1st Avenue North and 1st Avenue South. There will still be access to businesses on Ocean Boulevard.
"We Love Our Snowbirds" Reception on February 14th
The North Myrtle Beach Chamber of Commerce and Easy 105.9 and 100.7 will be hosting a "We Love Our Snowbirds" reception at The Myrtle Beach Mall on Friday, February 14th from 2:00 pm until 4:00 pm in their Cinema Court. The reception will feature live entertainment, refreshments, door prizes and mall discounts.
Employee Spotlight
Tri'Sha Vereen | Front Desk
Tri'Sha Vereen has been with the front office staff since April of 2013 and is a joy to be around. Tri'Sha or "Sha" as she is affectionately known around the property, is a 2013 graduate of Coastal Carolina University with a degree in Business Administration. Sha is currently working on her MBA, having just finished her first semester. When asked what her plans are when she completes her MBA, she wasn't sure but felt certain it would involve a move to the Charlotte or Washington DC areas.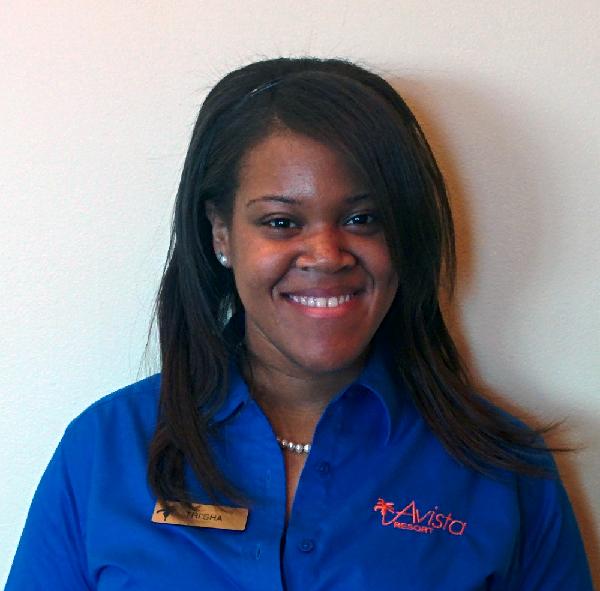 Sha really enjoys reading and singing. She sings often at her church and also enjoys being at home and helping taking care ofher family - as she is a very family oriented person. Tri'Sha is an extremely proud Chanticleer and member of the CCU Alumni Association and can often be found on Saturdays at Brooks Stadium cheering on the CCU football team.
"Tri'Sha is one of those people that you always know you can count on - it doesn't matter how big or small the project. She is a hard worker with an amazing personality that really connects with our guests. While hospitality may not be in her future once she graduates, I can say without a doubt that all of us here at Avista will miss her and will wish her the best of luck." said Zach Frazier, Avista Front Office Manager.
Groups
Our fabulous Group Sales Department is busy throughout the year, attending various market and trade shows promoting the excellent oceanfront properties of Myrtle Beach Seaside Resorts.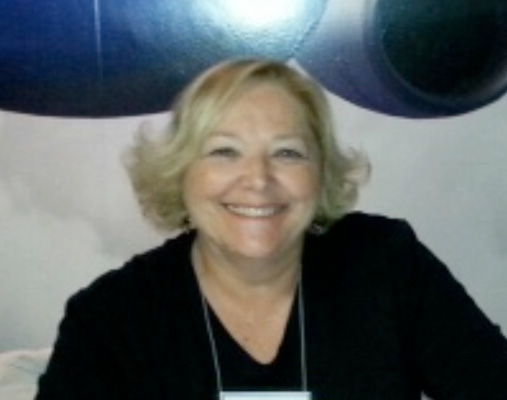 In November, Pauline Levesque, Group Sales Director, represented our properties at numerous venues throughout the Toronto area in conjunction with the Myrtle Beach Area Convention and Visitors Bureau. One of the venues included the OMCA Marketplace, which is the premier event in Canada for North American packaged travel.
OMCA works on the basis of a reversed Marketplace - where buyers sit at predetermined booths and sellers move around the Marketplace floor. Over a period of 4 days, buyers and sellers meet face to face during the seven-minute pre-scheduled appointments.
You don't have to go to a market or trade show to book your group at one of our properties. The Group Sales Department can help your group put together a package including shows, dinners, shopping, and numerous other activities. We handle researching and booking events in conjunction with your rooms, making it a one-stop shop service for the planner.
Groups of all types and sizes have enjoyed our packages, including churches, banks, sports, and wedding groups, to name but a few. Call us at 1-877-238-4487 to learn how we can make your groups next visit to the Myrtle Beach area even more enjoyable!
If you'd like info on booking your group function,
ClickHere
.
Guest Comments
Guest Satisfaction
All of us are so happy and pleased with our staff and the way that they have been able to handle everything thrown at them this past year as well as making sure that each and every one that we had with us was treated like family. In each department our guest satisfaction scores for the year were up and our guests were generally happy with every facet of their stay. This past December, the Front Desk staff was able to have their best month score wise since we began tracking them in 2009. It wasn't just the desk though that was having success, our housekeeping was consistently up in each category and showing why they are truly known for their cleanliness, engineering has seen a remarkable upswing to close the year and food and beverage has been able to consistently wow with great tasting food.
"We have been coming to North Myrtle Beach for over 25 years and stayed at the Avista the year it opened. We have stayed there every year at least once or twice a year since. Each year it seems to get better!!"
Gerald Crews, Alexandria , NC
"It was a beautiful experience, and I look forward to returning soon. The special online offers make it possible to enjoy an affordable time away."
Dorothy Heath, Goldsboro, NC
"Had an amazing getaway with your hotel. Could not have asked for a better room.
Justine Griffey, Raleigh,NC
To read more guest comments, click
here
.
Fun in the Sun
Fun Facts - Did you know?
Did you know that cats sleep between 16 and 18 hours per day?
Did you know that 1 in 5,000 North Atlantic Lobsters are born bright blue?
Did you know that a skunk's smell can be detected by a human a mile away?
The word 'lethologica' describes the state of not being able to remember the word that you want!
Elephants are the only mammals that can't jump.
Monthly Recipe - Meatballs for Spaghetti
1 lb. lean ground beef
1 egg
2 Tbsp. water
1/2 cup bread crumbs
1/4 cup minced onion
1/2 tsp. salt
1/8 tsp. pepper
Preheat oven to 350 degrees.
In large bowl combine egg, water, bread crumbs, onion, salt and pepper and combine.
Add ground beef, broken into chunks, and mash with your hands to combine. Form into meatballs about 1" in diameter and place on a broiler pan.
Bake at 350 degrees for 25-30 minutes until meatballs are no longer pink in center. Cool and freeze.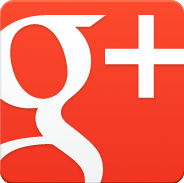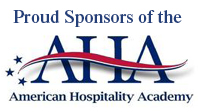 Avista Resort
300 N. Ocean Blvd., North Myrtle Beach, SC 29582
Call to Book: 1.877.392.2713
Member of MyrtleBeachSeasideResorts.com