Valentines Day will be here before you know it and now is the time to plan a romantic weekend getaway to Myrtle Beach. With the hustle and bustle that can happen after the holidays, its the ideal time to reconnect with your loved one for a little getaway. This year instead of planning a dinner and movie night at home, make your Valentines Day getaway a little more romantic and one that they will never forget. We have come up with a few easy steps to plan your perfect Valentines Day getaway to Avista Resort.
Book your Romantic Getaway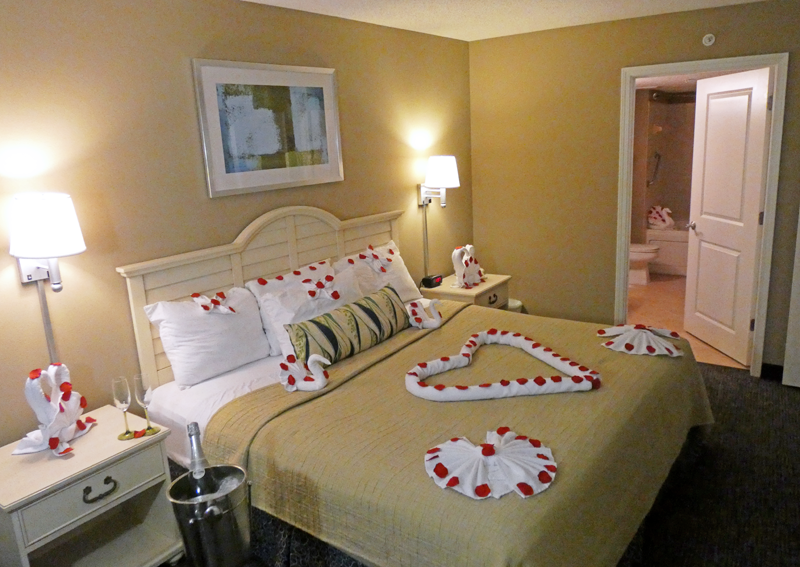 The first step is to book your romantic getaway to Avista Resort for Valentines Day weekend. To help get the romantic plans started, we are offering all our guests who book for Valentines Day a sweetheart package. The package includes a bottle of champagne and chocolates upon arrival, our romantic rose petal turndown service one evening and a Valentines Day Dinner at Just Off Main. With this package you can treat your loved one with a wonderful weekend filled with love and surprises. We are also offering this year a create your own Valentine Package by adding a few in-room enhancements like Balloons for a Special Occassion or a Wine and Fruit Basket. Be sure to mention this option when you call to make your reservation.
There is one way that you can inject some real passion into your getaway. Plan a surprise for you and your loved one now. It doesn't have to be extravagant but make it simple and yet sweet such as having flowers delivered to your vacation rental. Another sweet surprise that you can do is schedule a day at the spa. Think about what your partner likes and plan a surprise or two around that. No matter what you decide, they will be surprised either way and love every minute of it.
North Myrtle Beach holds an endless amount of exciting and fun things to do in the area with your loved one. When you are planning a romantic adventure, make sure to pick something that you both can do as a couple. A few suggestions that you can do would be taking along walk on the beach watching the sunset, enjoy a picnic on the beach or go to the Duplin Winery for the day for a tasting of wine. There are many romantic things that you can do together and being able to enjoy the time you have will make the trip feel more special.
We at Avista Resort have taken the hard work of finding where to take your loved one for Valentines Day on your getaway. We are offering to our guests a romantic dinner here at Just off Main served on Saturday, February 11th, 2023 from 5:00 pm to 9:00 pm. Here is the menu for the Valentines Dinner at Just off Main below.
Starters (Choose One of the Following):
Winter Garden Salad with Baby Beets, Kurobuta Squash, Honey-Chevre Coffee Soil & Root Vegetable Granola
Hay Smoked Oysters with Pink Peppercorn and Pomegranate Mignonette
Charred Caesar Salad with Fresh Romaine, House Croutons, Parmesan Tuille and Creamy Caesar
Entree (Choose One of the Following):
Smoked Duck Breast with Pink Lady Apple and Sunchoke Salad, Sunchoke Bacon Emulsion
Seared Scallops with Cauliflower Puree, Capers, Lemon and Cress
Ribeye Steak with Rosemary Roasted Cipollini, Creamed Spinach with Compound Butter
Dessert (Choose One of the Following):
White Chocolate Raspberry Cheesecake
Chocolate Souffle with Whipped Cream with Raspberry Sauce
Complementary Glass of Wine is Included
Now that you have everything you need to plan your next romantic getaway to North Myrtle Beach this Valentine's Day, its time to book your trip. If you would like to learn more about what North Myrtle Beach vacation rentals are available at Avista Resort give us a call today. We hope that you and your loved one will take this sweet getaway from life and enjoy each other.